BnS Devs have seen fit to put this upgrade weapon behind a PvP wall. In doing so they artificially limit players, specifically PvE only players from advancing in their choice class.
Unable to Reach Oathbreaker Weapon or Beyond
My BM is now equipped with a True Siren 5 weapon. I just found out today that in order to get beyond that I have to have the Misty Woods Cold Iron Sword. This weapon is purchasable from a Misty Woods Merchant. To be more precise, from the PvP vendor. This means I have to PvP to buy this weapon or fight some NPCs wearing my PvP faction gear.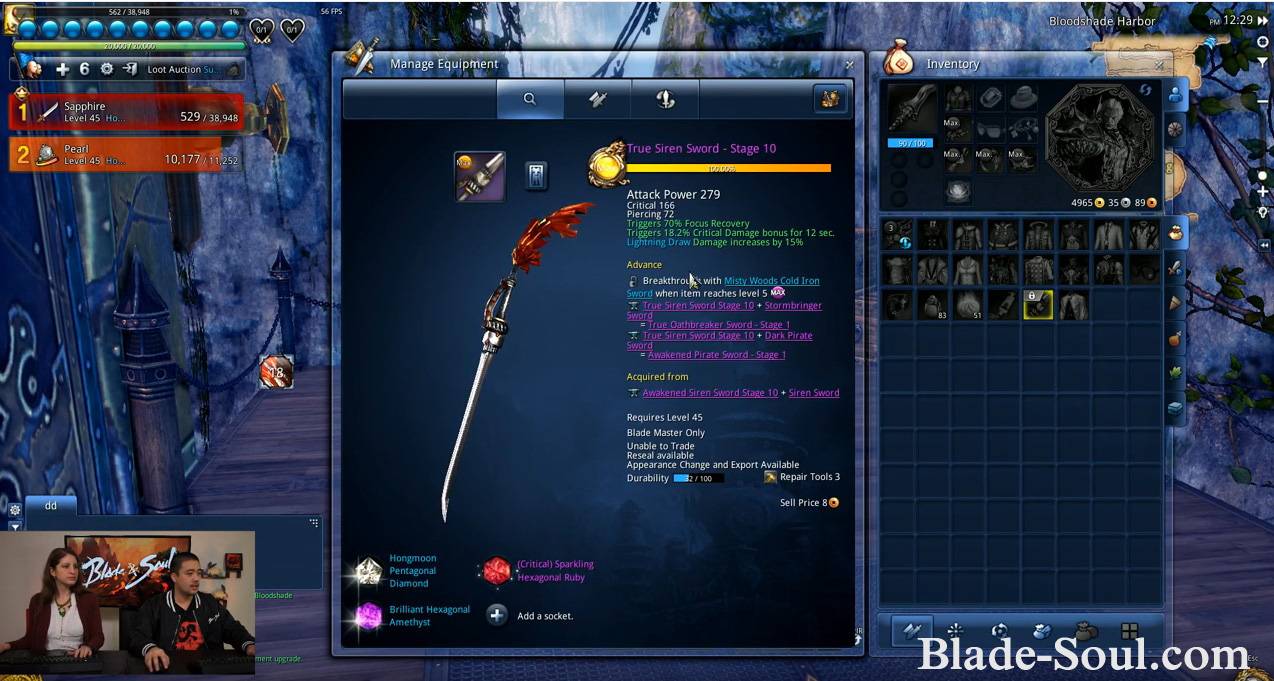 I cannot do either. As soon as I do put the gear on, I'm attacked by players. I tell them in chat I'm not here for PvP and I will not fight back because it is futile. They don't care, they kill me anyway. So it appears that from this point, I am done with my BM and cannot progress any further.
BnS Devs have seen fit to put this upgrade weapon behind a PvP wall. In doing so they artificially limit players, specifically PvE only players from advancing in their choice class. And before any of you say, "just PvP and get it over with," know this, you try PvPing on a server 9000 miles from where you live with 300ms avg ping, massive lag spikes, server issues that exacerbate skill delay making it futile to even attempt it.
I tried that before in SWTOR when I moved here. I PvP'd all the time. When it was apparent that I could not compete at the level I was with a 30ms ping I knew it was time to stop. I will not be subjected to being someone's XP, faction points, or whatever else you get because of the crappy lag and ping predicated by time, distance, and a questionable ISP.
BnS developers did not have the foresight in designing the weapon upgrade path with these issue in mind. They just did it and in doing so they just put PvE players out of reach for upgrading their weapon and equipment.
Somehow, I find that hard to believe because of my past experience with other MMOs and their official forums. Now I have a year long subscription I paid up front for that I'm stuck with. Sure I can level up my other alts, but I will soon hit the exact same artificial ceiling they put in place.
Unless they remove this requirement OR put another way to obtain this weapon, I cannot get my AP above the 430 AP mark I'm at now. At this point there is no reason for me to continue playing my BM because I know it is a waste of my time knowing I cannot upgrade my weapon anymore. Heck, I don't know if there is a similar issue between True Siren and Oathbreaker for my necklace, ring, or earring. If there is, then it is official, I cannot reach Oathbreaker level at all.
I do hope I hear from a developer on this issue; however, I will not hold my breath based on my past experience.
It is about having a 300 to 350 ms ping, having multiple lag spikes, skill activation delay, playing the game from 9000 miles away. All of this makes for playing PvP futile. If I were at 100ms, I'd be knee deep in PvP. I do it all the time in World of Warships and World of Tanks. But this, no I will subject myself to the frustration of PvP with the kind of issues I face playing on servers in NA. I learned how futile it is playing SWTOR PvP with it.
This is what the issue is for me and why I posted this subject at the behest of customer service. It is not whining, griping, moaning, QQing, or anything else. I cannot be competitive in PvP in this game on a NA server with the network issues I'm subjected too. It is that simple. The fact that BnS put the Misty Woods Cold Iron Sword behind a PvP wall to upgrade beyond True Siren Level 5 IS the issue that I cannot overcome.
I do not know how much less ambiguous I can make for people to take what I say at face value.
Gentlemen and ladies, this quote is the issue for me and PvP. I'm not afraid to face against other players. I am; however, not going to do it when the majority of the players have 10% of the ping I have because it means I am at an extreme disadvantage and not able to compete because of that. This is the second time I have made mention of what my issue is and why I do not PvP. You want to know what it is like? Sign up on WoWS Asia Server from the US and try playing the game, then you will see the problem.